"American Mirror joins the pantheon of such films as David Lynch's, Stanley Kubrick's"
HOUSTON, TX. – Arthur Balder's AMERICAN MIRROR: INTIMATIONS OF IMMORTALITY wins Remi Award as part of the Official Selection of the 53rd WorldFest Houston. This new award is welcome by the team of Da Vinci Films as a new recognition for their work and dedication to a project that took 5 years in the making.
"Technically impressive, artistically monolithic"
"Susan Sarandon, more human and beautiful than ever"
"American Mirror: Intimations of Immortality
is the epitome of contemporary filmic challenges.
Like Sergey Parajanov,
Arthur Balder
creates his own rules
and plays by them."
"The film moves on a yet undefined genre simply because Balder has not created more films, because he has the power to be the owner of a genre, his very own, and that's why often film theorists fall into the easy trap of calling experimental cinema what clearly is simply genius."
"Sarandon's looks intelligent, hauntingly provocative, defies age and stereotypes, triumphs at that"
By Christos Solomos, Ierapetra Film Festival Journal, Greece, August 2019
---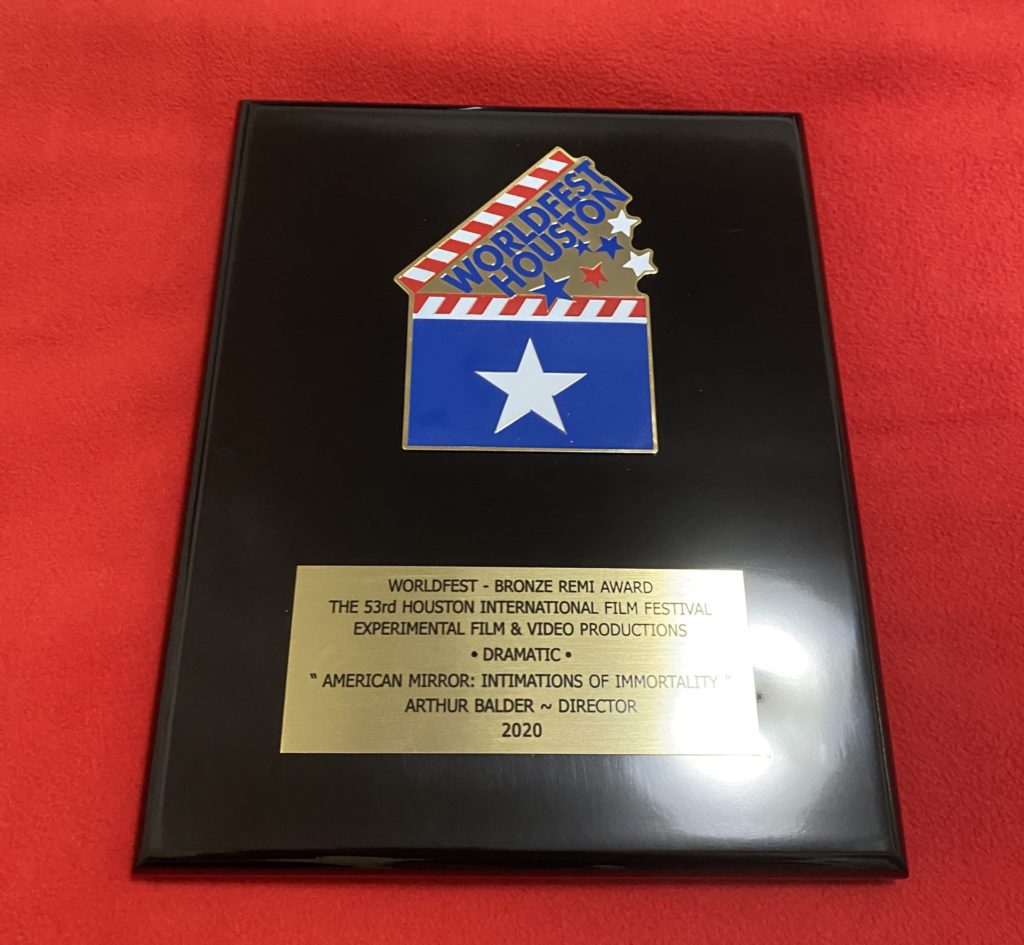 Jaipur, India, January 21, 2020. Arthur Balder's 'American Mirror: Intimations of Immortality' became the most awarded film at Jaipur Intl' Film Festival's history, winning Best Documentary Film, Best Cinematography, Best Editing, Best Sound, and the Red Rose Award.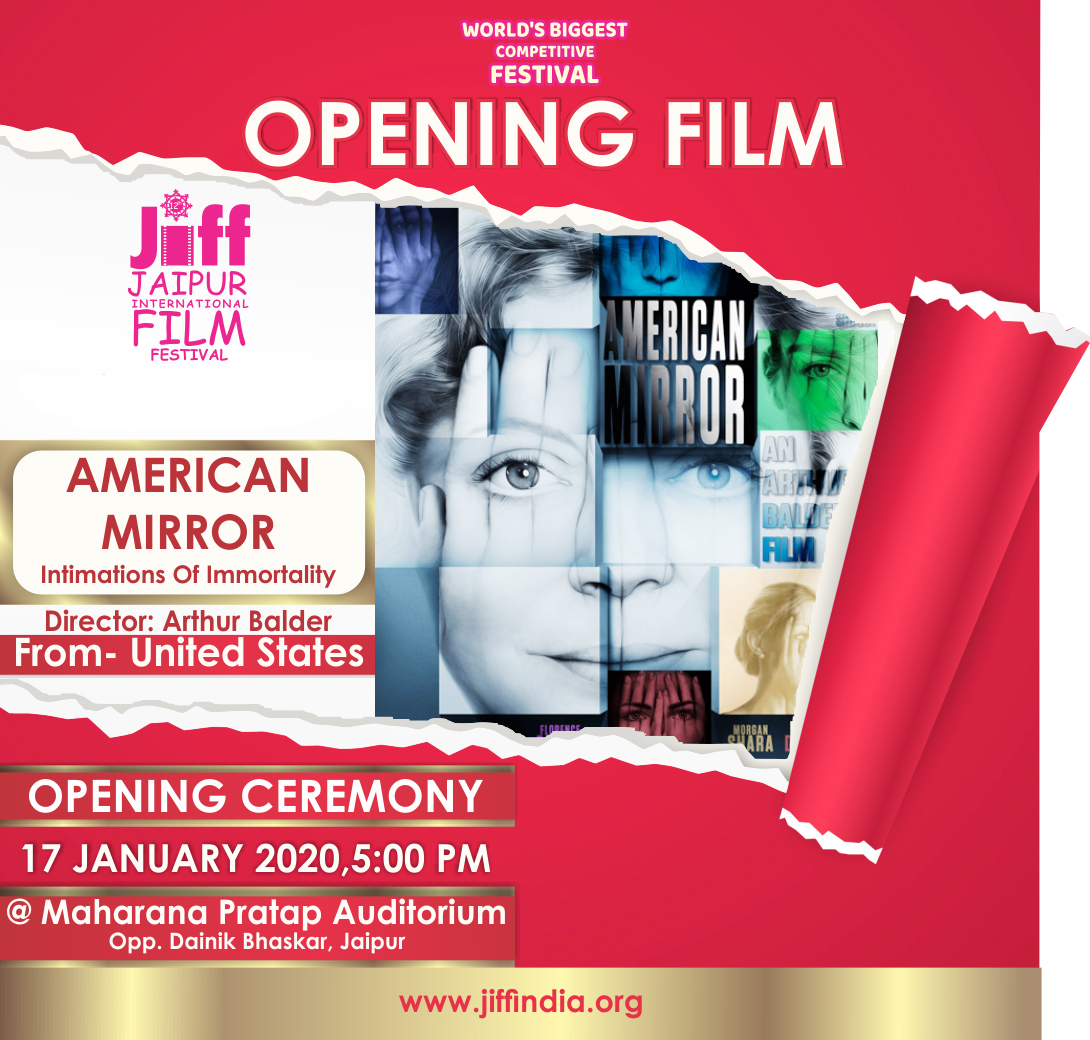 Published in JCC2019 (Oscar-qualifying 53rd Carthage Film Festival), film review at Le Quotidienne des Journees Cinematographiques Du Carthage, by Meriam Azizi, Ph.D. in Film Adaptation by Sorbonne Nouvelle University of Paris:
"Of all the documentaries of JCC2019 Arthur Balder's is the one that intrigues the most."
"American Mirror joins the pantheon of such films as David Lynch's, Stanley Kubrick's, but also of writers as Marcel Proust in his the search of lost time."
———————————————————-
"It's a dynamic, visually sumptuous, cleverly directed film that leaves you breathless and enthralled long after you watch it."
By Dragan Elcic
Director, film critic, Professor of Film Directing at and Dean of Belgrade Academy of Arts, Serbia. His films have been selected for the Oscars representing Serbia. As published by RTRS.tv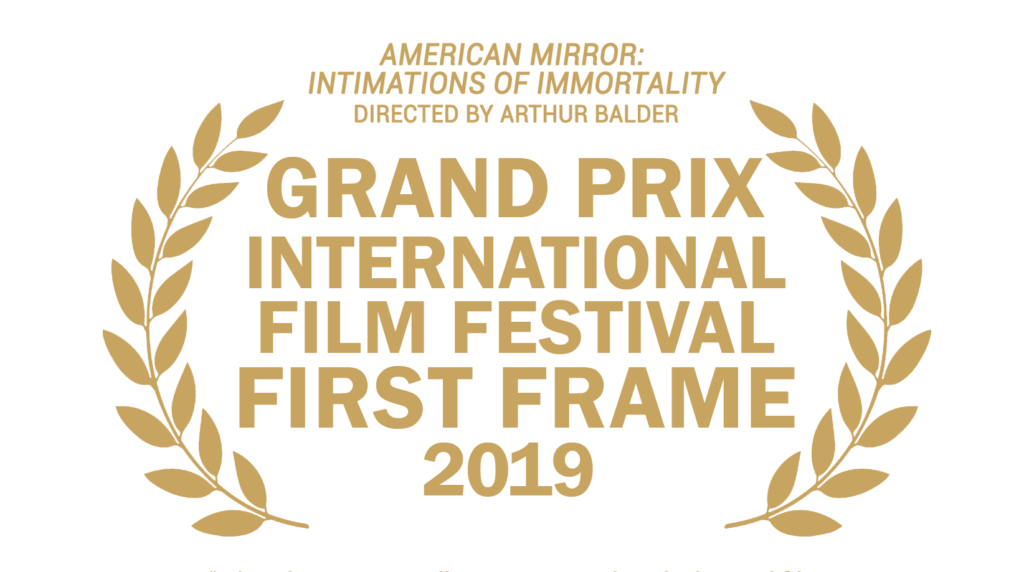 "American Mirror: Intimations of Immortality crosses borders and expands the forms of modern documentary film making."
Branko Lazic, film director, Bosnia-Herzegovina, published by RTRS.tv.
"A film that transcends genres and establishes its own rules of film narration."
Srdjan Savic, film critic, Serbia, published by RTRS.tv
———————————————————-
"An engrossing tale that reflects on today's society's obsessions."
By Stephanie Janssen, Volume One Magazine, USA
———————————————————-
By critic Alex Lines, FilmInquiry, Australia:
"' Intimations of Immortality' is (…) a strange beast of a feature"
"there's a lingering, finely-drawn intelligence to Arthur Balder's hallucinogenic compilation, one which welcomes many readings no matter how you look at it"
"with a healthy dose of David Lynch" (…) strikingly original
"Perplexing (…). It definitely shrugs off any expected genre conventions"
"'American Mirror' eschews any traditional documentary formats when attempting to align Balder's own film theory digressions alongside the scattered memories of his main subject"
"mystifying, if not wholly fascinating"
"a fractured mosaic of brooding introspection, abstract memory play (…) hard to define"
From an article published by FilmInquiry, Australia, written by film critic Alex Lines.
———————————————————-