Film Reviews
———————————————————-
"American Mirror joins the pantheon of such films as David Lynch's, Stanley Kubrick's, but also of writers as Marcel Proust in his search of lost time."
Published during JCC2019 (Oscar-qualifying 53rd Carthage Film Festival), film review at Le Quotidienne des Journees Cinematographiques Du Carthage, by Meriam Azizi, Ph.D. in Film Adaptation by Sorbonne Nouvelle University of Paris:
"Of all the documentaries of JCC2019 Arthur Balder's is the one that intrigues the most."
———————————————————-
---
"Technically impressive, artistically monolithic"
"Susan Sarandon, more human and beautiful than ever"
"American Mirror: Intimations of Immortality
is the epitome of contemporary filmic challenges.
Like Sergey Parajanov,
Arthur Balder
creates his own rules
and plays by them."
"The film moves on a yet undefined genre simply because Balder has not created more films, because he has the power to be the owner of a genre, his very own, and that's why often film theorists fall into the easy trap of calling experimental cinema what clearly is simply genius."
"Sarandon's looks intelligent, hauntingly provocative, defies age and stereotypes, triumphs at that"
By Christos Solomos, Ierapetra Film Festival Journal, Greece, August 2019
---
Paul Haggis, two-time Academy award-winner screenwriter, director, and producer:
"I congratulate you for having made me feel uneasy, for having abandoned the safe zone and tried to go beyond."
Declarations after winners announced by Paul Haggis, who had been Jury President of Fabrique Du Cinema Awards 2018, published by Fabrique Du Cinema Awards, Rome, Italy. "American Mirror: Intimations of Immortality" won Best International Documentary Award.
———————————————————-
By Film Inquiry, Australia, written by film critic Alex Lines:
"'American Mirror' is a strange beast of a feature"
"there's a lingering, finely-drawn intelligence to Arthur Balder's hallucinogenic compilation, one which welcomes many readings no matter how you look at it"
"with a healthy dose of David Lynch"
"Perplexing"
"'American Mirror' eschews any traditional documentary formats when attempting to align Balder's own film theory digressions alongside scattered memories"
It definitely shrugs off any expected genre conventions"
———————————————————-
---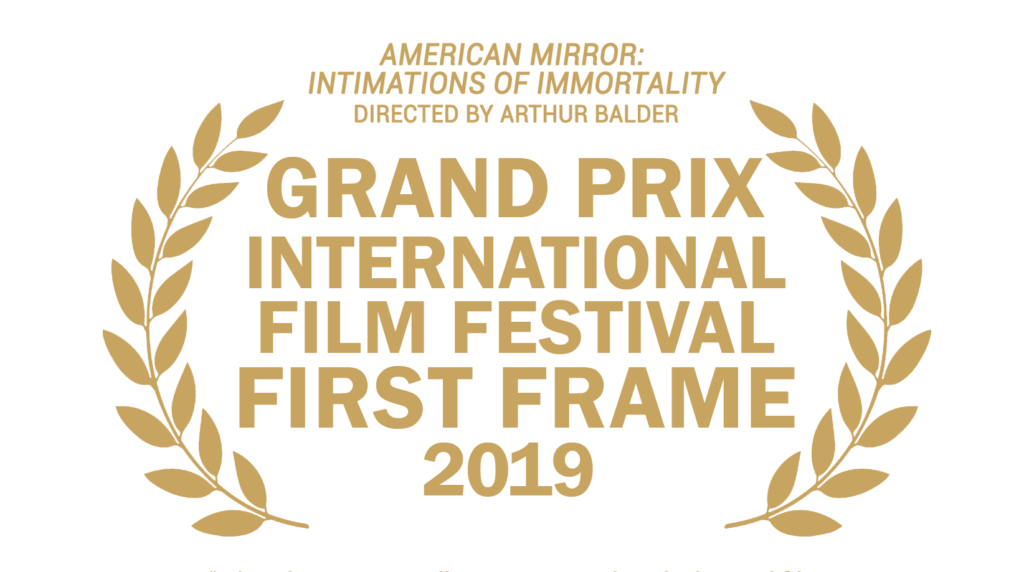 "It's a dynamic, visually sumptuous, cleverly directed film that leaves you breathless and enthralled long after you watch it."
By Dragan Elcic
Director, film critic, Professor of Film Directing at and Dean of Belgrade Academy of Arts, Serbia. His films have been selected for the Oscars representing Serbia. As published by RTRS.tv
"American Mirror: Intimations of Immortality crosses borders and expands the forms of modern documentary film making."
Branko Lazic, film director, Bosnia-Herzegovina, published by RTRS.tv.
"A film that transcends genres and establishes its own rules of film narration."
Srdjan Savic, film critic, Serbia, published by RTRS.tv
———————————————————-
By The Armenian Mirror-Spectator, the first English language Armenian weekly in the USA since 1932:
"Director Arthur Balder takes us on a visually spectacular journey ."
"a revelation to Balder's craft"
"It expands our ordinary perception of time"
"His artistic vision challenges the canons of mainstream documentary filmmaking."
———————————————————-
By Fabrique Du Cinema Nr 24, Rome, Italy, March 2019, written by Chiara Carna:
"Arthur Balder is an artist at the same time creative and meticulous. "
"Proof of it are the stylistic rigor and the aesthetic acumen with which he directed 'American Mirror'."
"Susan Sarandon is more charismatic than ever in 'American Mirror'. "
———————————————————-
By The Digital Journal:
"Arthur Balder wonders what is the true beauty in "American Mirror: Intimations of Immortality". A very graceful and elegant work."
The Digital Journal, April 2019, LA, USA.
———————————————————-
By the TorontoHye, Canada:
Dr. Roubina Yeghoyan: "Insightful. It raises important questions on modern society's standards of beauty and the pressures of social media."
———————————————————-
"An engrossing tale that reflects on today's society's obsessions."
By Stephanie Janssen, Volume One Magazine
———————————————————-
"Award-winning AMERICAN MIRROR is one of this year's program highlights"
Jenna Jylhä
Reporting on Tallinn Black Nights Film Festival, Talinna24.ee